Bruce went to be with the Lord early this morning (28th December 2021), peacefully in his sleep while listening to his favourite worship music with Terry Macalmon on his earphones. Heaven has gained a warrior. Thanks for all your prayers and support throughout this time. Lots of love, God bless, Caroline Wick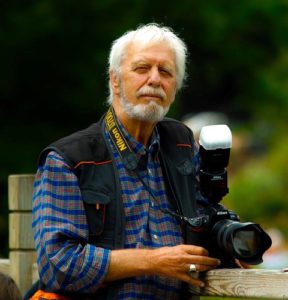 Tribute to Bruce Wick (19/12/1936 – 28/12 2021)
"Three days to live? I'm not accepting that," said Bruce, pulling out the nasal gastric tube the hospital had inserted into his stomach and laying it on the bedside table. "I'm going home. In Jesus Name!"
With a diagnosis of terminal pancreatic cancer, Bruce had been admitted to hospital, where the consultant had confided in Caroline, Bruce's wife, that he had three days to live. The tube was draining everything that entered his stomach, and when Caroline saw Bruce, he told her he had already felt the Lord tell him to pull the tube out so he could live. That was May 2020.
Back home, he became stronger day by day, and was soon out and about around the town where he lived, Hastings, photographing anything and everything, and witnessing wherever there was opportunity. He spoke at our national conference, and on numerous Zoom regional meetings. When he visited the hospital, they called him 'the legend'.
I never quite understood the various steps, stages, places and occupations that comprised Bruce's life story. I never joined up all the dots, so to speak, probably because there were just so many dots. But what bright colourful dots they were. Born and educated in the USA, the world was his oyster. With his tall broad frame, film star good looks, charisma and engaging manner, Bruce was destined to succeed in whatever he turned his hand to. And turning his hand to saw-mills and logging equipment, he found himself in the Philippines, where he prospered almost beyond belief. But a passing evangelist left some gospel literature around the place, and first Bruce's wife Caroline, and then Bruce himself, decided to follow Jesus, were born again, and rejoiced in a new, more fulfilling life.
"Give it all away!" That was the word Bruce kept hearing, and when he shared it with Caroline, found she was hearing it too. So that was the end of property, aeroplanes, cars, businesses, and the start of a life of evangelism, healing the sick, casting our demons, and even, on one occasion, raising the dead. Not that the Lord did not use him in business from time to time, running a radio station in Spain and in numerous other capacities. And when he prospered materially, the Lord again said, "Give it all away," – and found a man of obedience.
When Bruce came to speak at our Norwich FGB meeting, people's lives were changed forever. When I spoke at the 1066 FGB in Hastings, the restaurant was, as always, filled to capacity. The diners were an eclectic mix, with a consultant surgeon who had booked in advance, homeless drug addicts that Bruce had gathered from the streets that day, and a whole lot more.
Bruce was rightly described as amazing, extraordinary, larger than life, stunning, jaw-dropping – and yet he was modelling for us the life that each one of us, as Spirit-empowered believers, is called to live. He was our rôle model. Consider Bruce, consider the Church in Acts, consider Jesus, and be inspired to live the life to which we are called. And let us thank God for this spiritual giant and humble man of God, and hold Caroline and family in our prayers at this time.
Barrie Lawrence
Chairman of National Council, FGB UK & Ireland