"Well done, good and faithful servant. Enter into the joy of your Lord." I have no doubt that Terry heard these words of welcome as he slipped peacefully from earth to heaven at 04.15am on 31st October.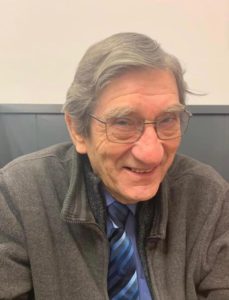 A fitting tribute to Terry from Barrie Lawrence, Chairman of FGB UK & Ireland:
I first met Terry at an FGB dinner in Southend around the end of 2012. Just who was this tall, energetic man, leaping around and taking videos with his tablet? I was soon to find out, as he cheerily introduced himself. My first book had just been published, and at the end of the evening, he enquired how many were left, and bought around 25 copies. Such a generous encouragement.
He referred to me as 'young Barrie' and I called him 'Uncle Terry'. He had a great testimony, with engaging stories of nearly being blown up in the military, and of playing football well past middle-age. But Terry had met Jesus, and he loved Him passionately, and served Him with all his heart. As director of south-east region FGB, he was amazingly methodical, often having the same speaker go from chapter to chapter every day for a week, covering dinners, breakfasts and radio broadcasts. Travelling with him around the region, he was clearly loved as a fatherly pastor figure. He was a long-standing director of that region, and never missed the quarterly national council meetings in Nottingham, where his wisdom and input was valued.
At the age of 80, Terry was still travelling to Eastern Europe, sharing testimony and preaching in numerous countries and cities. The transport was often basic, and the sleeping arrangements even less so. But Terry embraced such challenges with an attitude of boyish adventure, and was loved by those he ministered to.
We are each unique – but some are more unique than others! Terry was through and through Full Gospel, speaking in the power of the Spirit, whilst expecting and seeing miracles. Full of power, and full of faith, and full of love. Terry is irreplaceable. Our thoughts and prayers are very much with Anne, and daughter Steffi, and the wider family.
Please add your personal tributes as comments on this post.