The purpose and focus of the Full Gospel Businessmen in UK & Ireland is to reach men and women for Christ and to empower them for life through the power of the Holy Spirit!
We aim to reach men and women in all the towns and cities across the North West of England, where we trust the gates of the town will be open to receive the Good News of Jesus Christ.
FGB began following a vision given to Demos Shakarian, a business man, and has spread to over 160 nations in every continent in the world. The life changing story is told in the book "The Happiest People On Earth" and the supplementary booklet: The Vision Intensified, which can be purchased from the national office or through the on-line shop on the national FGB website.
Chapters In NORTH WEST
Chapter Information
ASHTON-IN-MAKERFIELD
The Ashton-in-Makerfield chapter is in abeyance.
Please contact Des Pilling on 01942 730 334 for details
BLACKBURN
The Blackburn Chapter holds dinner meetings usually on the fourth Monday (not in July).
Event location:
   Dolly's Tea Rooms,
   386 Bolton Road,
   Darwen, Lancashire
   BB3 2PS
Dinners are 6.30pm for 7pm start.
Contact Details: Email: blackburnfgbmfi@yahoo.co.uk
Phone: Phil Myers 07889 382 199 or
Allen Myers 01254 888 982
BOLTON/BLACKPOOL
These Chapters are currently not meeting.
Please contact Peter Cunningham for more information on 07847 313 972.
CARLISLE
The Carlisle chapter is in abeyance.
Please contact Sunday Ifere for details on 07967 348 208
LIVERPOOL
The Liverpool chapter now includes the former Liverpool City, Speke and Liverpool University Chapters.
Please contact: 
Alan Davies for details of FGB activities on 07982 657 622 or email blessedalan@tiscali.co.uk, or
Janet Davies for information on the Women of FGB on 07732 860 396 or email wof@fgbuk.org
NORTHWICH
The Northwich Chapter is currently not holding meetings.
Contact Details: Peter Hunt: peterfhunt@gmail.com
SALFORD
Salford chapter is currently not holding meetings.
Please find details at the Salford FGB Website salfordfgbmfi.wordpress.com
STANDISH
The Standish Chapter normally meets bi-monthly.
Contact details for the next planned meeting:
Brian Kelly on 01942 245 266
WARRINGTON
Please find details at below.
Meetings are usually the third Wednesday of each month either in a restaurant or on Zoom. Dinners start at 7pm with a 10pm finish.
Contact: Dave Riley, 07958 045 614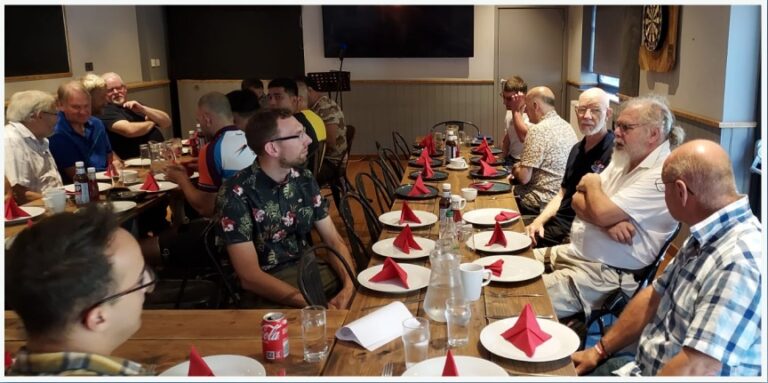 The new Chapter held its 1st meeting on 9th September 2023, with speaker Keith Oliver
Read More »